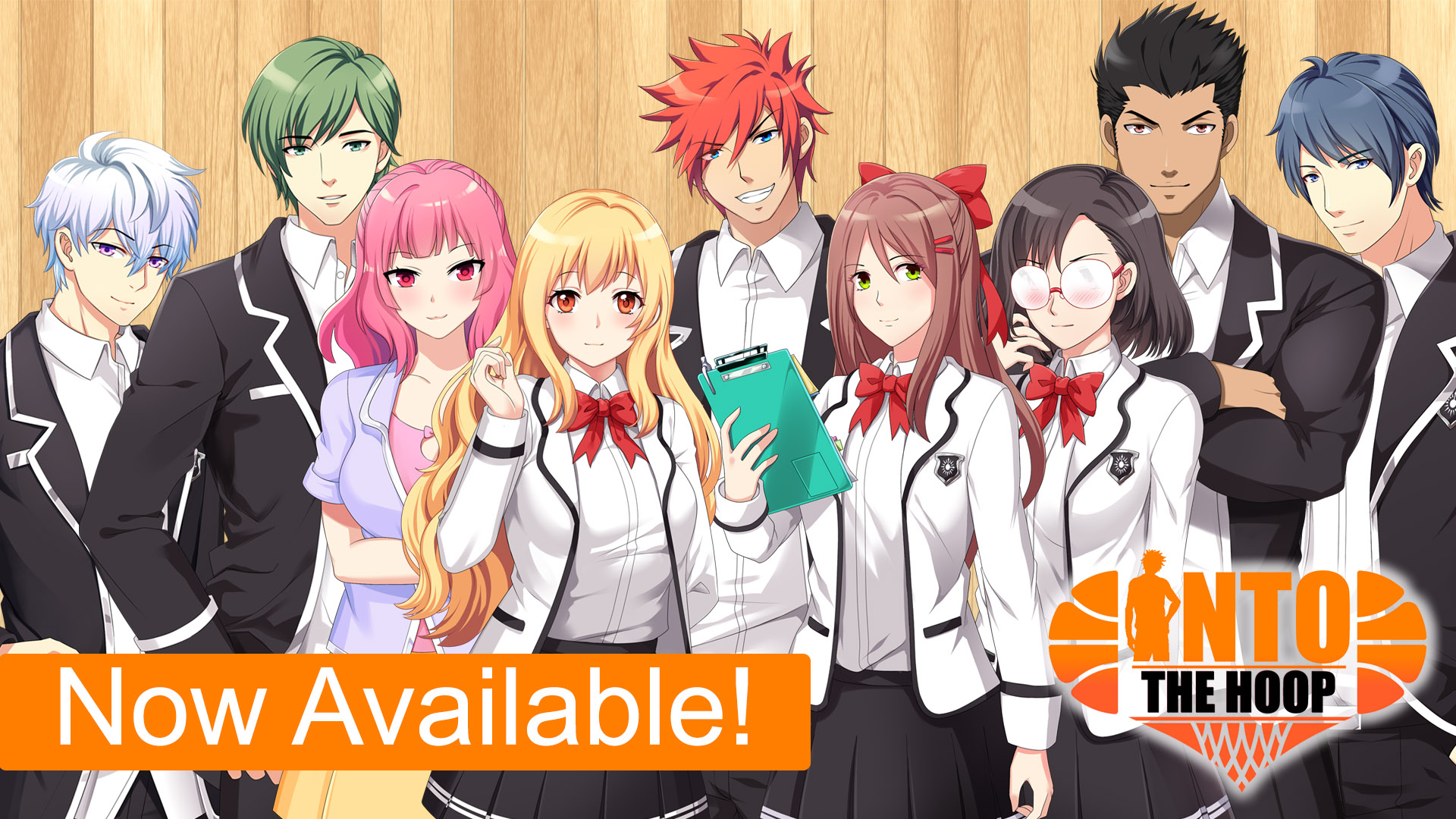 Into The Hoop
A downloadable game for Windows and macOS
REALISE YOUR BASKETBALL DREAMS!
Into The Hoop is a light-hearted slice of life visual novel/dating sim where you assume the role of Taiyou High School's basketball ace.

You are Yuu Kazehaya (優風早) of Taiyou High School, and your team has recently won the regional tournament to compete in the Interhigh Championship which is 45 days away! Being a final year senior, this means that once the Interhigh Championship is over, so is your high school basketball life.

You will decide on what kind of activities Yuu should pursue. This could be advancing routes of love interests, hanging out with your teammates, or raising stats with activities such as studying, training, or doing a part-time job!
In your quest to win the Interhigh Championships, can you make the right decisions to balance athletics, studies, and relationships with your remaining days to finally be crowned the Interhigh Champions?

Over 15 hours of content over 45 days
Progress individual routes as you like (if unlocked and available)
Interact with a cast of interesting characters!
Partial voice acting (>2000 spoken lines) to bring the characters to life
Over 35 original, professionally composed soundtrack
Stat, money, and bond management system
Choose what to do during your free time during the day/night cycles
Timed events that might reward you with bonus stat points and CGs
Your decisions matter! Bad decisions made repeatedly will end up with a game over
Artwork made for Full HD quality, with over 70 CGs and BGs to explore
Language: English
Resolution: 1920 x 1080


Note
The game might contain content which is unsuitable for some audiences including veiled nudity and mature themes.

You can download the demo here. The demo is playable up to Day 5, where you are able to experience most of the features mentioned in the game features section below. Do note that this is an early build and is slightly different from the official release.
We will update this page with the latest demo once we have created a newer version 🙂
| | |
| --- | --- |
| Status | Released |
| Platforms | Windows, macOS |
| Publisher | |
| Release date | Oct 01, 2021 |
| Rating | |
| Author | intothehoop |
| Genre | Visual Novel, Interactive Fiction, Sports |
| Tags | Anime, Casual, Comedy, Dating Sim, Funny, Romance, Story Rich |
| Average session | About an hour |
| Languages | English |
| Inputs | Keyboard, Mouse |
| Accessibility | One button |
Purchase
In order to download this game you must purchase it at or above the minimum price of $12.90 USD. You will get access to the following files:
Comments
Log in with itch.io to leave a comment.
Is this game available on steam?
Hi Clyrex, thank you for the message. Unfortunately we won't be publishing this on steam.
Hi I have went through three problems while one is I can't go finish the rest of the day when I choose the arcade at any point in the game or at least when once I got past the beach scene (I think I'm not sure when I first chose to go to the arcade).Even after starting a new game and choosing the arcade as early as possible.
Two after going through a second play through by using a saved point (not starting a new game) I can't finish Daichi's last quest without the game crashing and getting the same sort of message as the user The Mystical Forest. I can't copy and paste the error code cause I saved over that file, sorry.
Lastly after going through a new game I can't get past getting invited to workout with Daichi for the first time and it glitches to like the moment Yuu can dodge the chalk thrown by Mr. Jo but he is at his own home at night in his uniform. Other then that I really liked the game and would be very interested in extra content or a sequel
Hey Joe bro thanks for the message! Sorry we missed this!
Thank you for enjoying Into The Hoop :)
We'll have a look into this as the things you mentioned might have given us some further insight into looking for this bug.
Thank you.
Hi i would like to report a bug
first when i go to the arcade with Mamoru for his bond after completed it take me back to the menu.
And when gym the game crashes and i get this.
While running game code:
ScriptError: could not find label 'schoolgym_label'.
-- Full Traceback ------------------------------------------------------------
Full traceback:
File "renpy/bootstrap.py", line 326, in bootstrap
renpy.main.main()
File "renpy/main.py", line 617, in main
run(restart)
File "renpy/main.py", line 148, in run
renpy.execution.run_context(True)
File "renpy/execution.py", line 922, in run_context
context.run()
File "script.rpyc", line 20261, in script
File "renpy/script.py", line 910, in lookup
raise ScriptError("could not find label '%s'." % str(original))
ScriptError: could not find label 'schoolgym_label'.
Windows-10-10.0.19041
Ren'Py 7.4.4.1439
Into The Hoop 1.0
Fri Mar 18 16:37:17 2022
Hi The Mystical Forest, thank you for highlighting to us. We will look into this and issue a patch to fix this asap! Thanks.
Hi The Mystical Forest, we tried looking into this but am having difficulty searching for the cause. We highly suspect its a conflict caused by the day/night system where the progress is not recorded properly. Is it possible for you to send us a copy of the save file if you still happen to have it? You should be able to find it in the "saves" folder. Thank you.
Aww I want to romance with daichi oshiro
Sorry Go Hee, we didn't set out for Daichi to be romanceable 🥺 Can't deny that he is attractive though!
hey, super loving the game so far!!! i plan to leave a more in depth review once ive finished it, but im having a bug problem... ive been trying to do the least event for jin's route, but every time it should send me back to the main route, it resets back to the main menu? im not sure whats causing it!!!

for reference, i did complete his route just fine earlier in my playthrough, but my game crashed and i had to re do it. its only become a problem now. :(
Hey Muftiday, thanks for letting us know that you are enjoying it!
Can you kindly advice if the version you played which is causing you the issue is before the update patch was released or after? If you managed to complete his route in an earlier playthrough it shouldn't suddenly be causing issues.
Let us know the details and we will look into it for you.
Thank you!
i downloaded it just the other day, so post update patch i presume? ive deleted and reinstalled a few times but it still keeps happening :(

thanks for the quick reply!!! im enjoying the game so far but i love jins character and i would really like to complete the game with his relationship maxed
Hey Muftiday sorry for the late reply! I think you'll need to clear the game data by going into 'Settings' and click on 'Reset Data' which should give you a fresh game state. **(But do note that all the persistent data will be lost, such as fast forwarding through read content)**
We can't seem to find the issue from our side which might cause a game over (which resets the game to the menu) now, and Jin's route was the one we patched previously as we identified an issue there.
Hopefully this will solve the issue, and our apologies for the inconvenience :(
Thank you.
Can you romance the guys as well?
This looks interesting! Too bad it won't be released on Steam, though. May I ask the reason why Steam rejected it?
Hi felindamuliadi,
Thanks! The guys are not romanceable as we didn't set out for them to be love interests. They are more team members than date options :)
As far as we can gather its the high school setting and having mature themes in the game will normally get you rejected. We're not the only ones who experienced this though, so that's unfortunate for some of us.
Last update on KS was "Steam rejected game"... then released here. WTF? Have you forgotten your KS backers? I know Perth is locked down, but it's like a big country town so get your sh1T together & release to KS. 😋
Hi AjHere,
We are organising the keys for our backers, should be done in a couple hours :)
We did mention in the update that we will be sending itch.io keys for the backers, but the page and download has to be live in order for us generate them.
Expect an email with your key once we organised everything in the next few hours!
Thank you for your patience as always.